WhatsYourPrice is a dating site that falls somewhere between sugar dating and normal dating. It works differently than most dating sites, but more on that later. We took a close look at the site in our WhatsYourPrice review and are sharing our experiences with WhatsYourPrice and for whom it is worthwhile. Is WhatsYourPrice a reputable sugar dating website, or should you go to the competition? Let's find out.
Sign up at WhatsYourPrice
To sign up with WhatsYourPrice is very easy. All you need is an email address or a Google account. With the latter, registration is much faster. Then you enter everything important, country, place, what you are looking for etc. and you can start looking for dates.
Overview and design
The overview at WhatsYourPrice is good. Everything can be seen quickly and you can find your way around immediately. The website design is good. If you open a profile, the photos are the focus. There is a detailed description of what the person is looking for or wants and you can find all the information.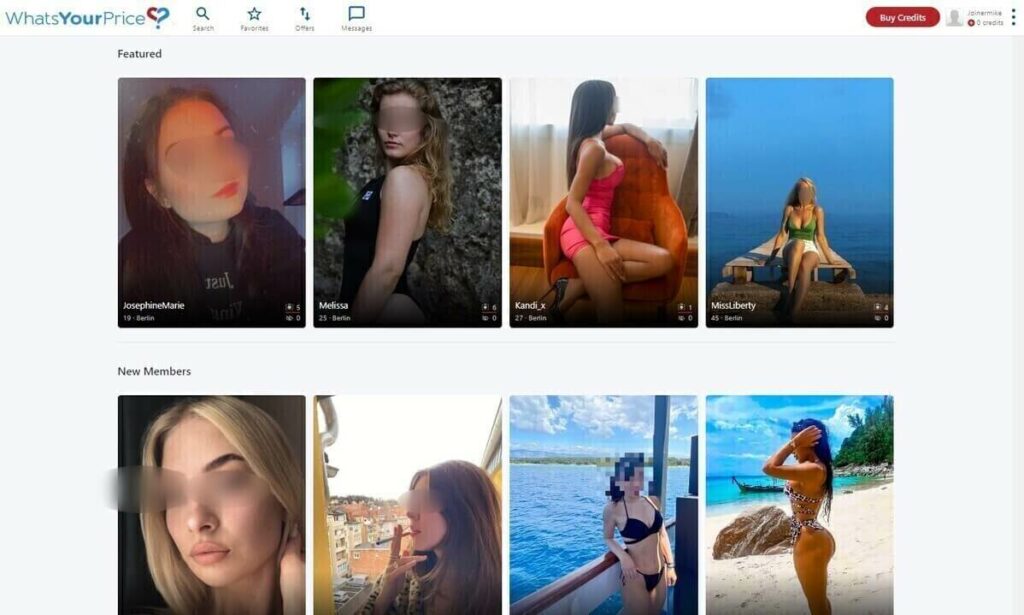 Members of WhatsYourPrice
Since its inception in 2003, over 3 million members have signed up for WhatsYourPrice. That doesn't make it the biggest sugar dating website, but it definitely makes it one of the big players.
There are different members. Many of the women, but also men are looking for a relationship. Others are just looking for sex and fun, and still others want an open relationship. The offer is very large and varied.
Most of the women are between 20 and 25 years old, although of course there are also older ones. The men are usually a bit older. Most of the men on WhatsYourPrice are between 40 and 50 years old and are financially better off.
WhatsYourPrice takes very strong action against fake profiles. During our WhatsYourPrice review report, we noticed many real profiles. But some are clearly fakes. These cannot be avoided 100% on any side. There is also a "Report User" feature in case you think it is fake.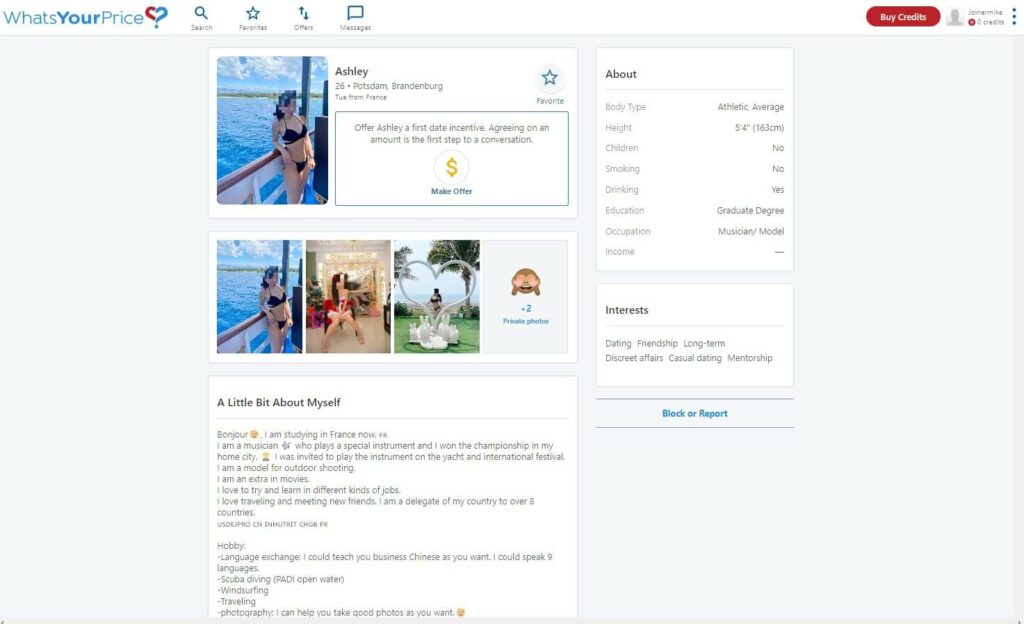 Highlights of the website
The real highlight is how WhatsYourPrice works. You offer for a date and only if it is accepted by the other side can you get in touch and possibly meet. This is how you show that you are seriously interested in someone and not just texting as many women/men as possible. Apart from that, the site is kept very simple in terms of functions.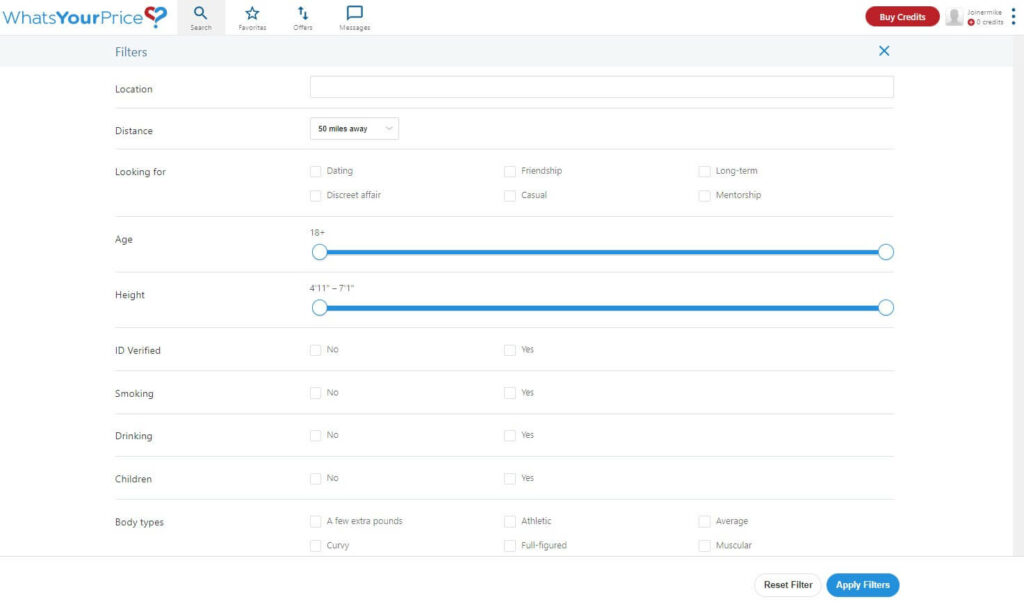 WhatsYourPricePremium
You can browse WhatsYourPrice for free and also search for women/men worldwide. In order to be able to contact the members, however, credits are required. There is no subscription model here like there is with sugar dating sites like Sugarbook. The prices for credits are:
100 credits – 50€
500 credits – 150€
1000 credits – 250€
WhatsYourPrice works differently than most dating sites. Here you pay in advance for dates. If you have found an attractive person and would like to get in touch with them, you make an offer. There is no minimum amount, but shows that the average is $120. With the high price to be able to get in touch, you show that you are really interested. The woman or man can then confirm whether he agrees with the "bidder" and the meeting results. WhatsYourPrice is only made for people with money.
Chances of success at WhatsYourPrice
We see the chances of success at WhatsYourPrice as very good. Due to the large selection and the many different members, it is relatively easy to find women or men for a date. Provided, however, that you are not frugal. If you want to be successful, you have to let the contact cost you something. Experience has shown that below a 50$ bid it is very difficult to get a contact. As already mentioned, one really sees here that only wealthy men or women who are willing to pay a high price for contacts register. If that doesn't matter, you have a very good chance of success.
CONCLUSION: WhatsYourPrice
WhatsYourPrice is certainly not known to many, although it is actually a very good sugar dating website. Due to the many members, who all have different requirements, it is very easy to find a date or ONS. Although you have to spend a little more money with What's Your Price, you get exclusive access to a good community. In the What's Your Price review, we were able to Completely convince the website.
What is your experience with WhatsYourPrice? Leave us a comment on how it went and whether you think it's a good sugar dating site.